Registration service
Administration of online registration via sportzeitnehmung.at. Alternatively transfer of registration data provided by organiser into timing software. If needed, recording of late entries at race day.
If needed registration lists and start lists according sport federations requirements are provided.
 BIB service
In case of BIB timing with passive transponders BIB's are included in the offer. In case of usage of active transponders BIB's may be organised by us. We support you in selection, design and organisation of the necessary BIB's for your event.
App for BIB handling & registration
Using this app (available for Android and iOS) the handling of issuing BIB's and transponders, registration of late entries, amendments of registration data at race day can be executed easy and paperless. Lookup for participants can be done using e.g. participants name, BIB, licence number or using a QR-Code placed on a registration printout.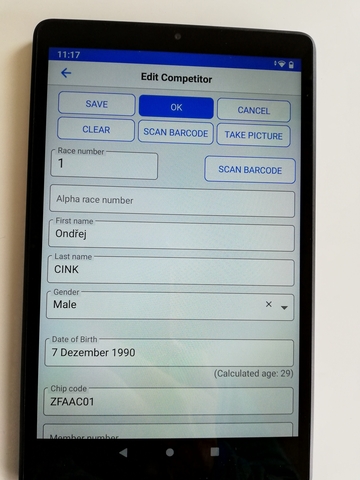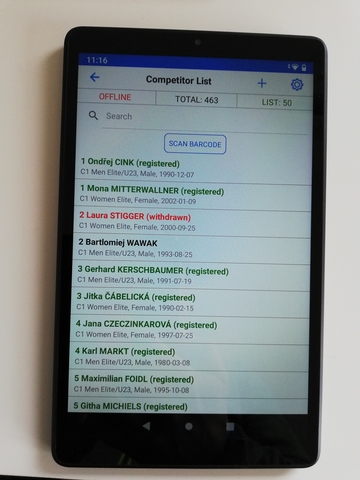 App can be installed on your own hardware (mobile phone, tablet) or if needed tablet pc's can be provided.
Electronic Timing
Registration of electronic timing data is captured using BIB-Tags ("passive") or active transponders depending on sports  requirements.
Timing with BIB-Tags
Electronic timing using BIB-Tags. Floor antennas whith a width of 4.8 meters are used. In case of intermediate timing points or events with  low finish density side antennas may be used.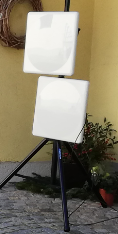 The timing tag (oneway usage) is integrated in the BIB. The BIB must not be returned after the event, but return is possible. BIB timing is used for running events and MTB events with large number of participants.
Timing with active transponders
Electronic timing using active transponders. The timing loops (width up to 12 meter) are only thick 1mm and are therefore ideally for higher passing speeds. This system - with a precision of 0.01 seconds - is used for road cycle races, triathlons, inline skate races, skiroller races, cross country skiing etc. and is also used for MTB races, Cyclocross races and alternatively for running events with lower number of participants.

Active transponders are placed directly on the bike (using zip ties) or placed on athletes ankle (using a neoprene velcro strap). Active transponders are issued together with the BIB and must be returned at the end of the event.
  Photo-Finish
Electronic Photo-Finish system with a framerate up to 6,000 fps. Additional use of this system guarantees correct rankings also in case of tightest sprint decisions.

For events where chiptiming is not possible timing is executed by using the system integrated timestamp in the current photo-finish recording.

Commentator-System
Provision of a commentator system running on a tablet PC for announcer in finish area with actual timing data and results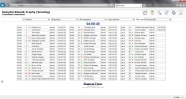 Results display is adjustable to necessary timing information (e.g. lap times, categories, time difference)
 LED clock

Display of current race time on a LED clock
LIVE-Timing
Provision of LIVE-timing data on our website sportzeitnehmung.at
Interface for Livedata
Provision of current timing data to TV producers via interface
Results display in finish area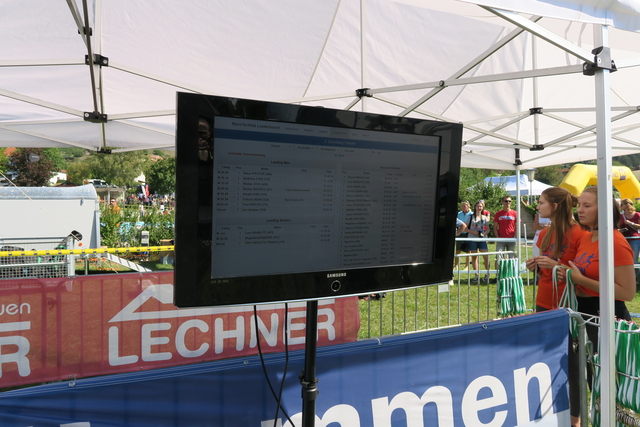 Provision of a monitor in the finish area presenting actual race results   
Results service
Depending on the requested setup results are provided on gross- or net times. Different start procedures are possible (e.g. mass starts, wave starts, time trial starts).
Beside overall results different other result setups (e.g. separated by age category, gender, profession, club) can be provided. For team results different score criterias (sum of time of x-fastest team menbers, average time, time of x-fastest team member etc.) are possible.
Result lists
At event end results lists are provided as printout (e.g. for race director or for hangout) and in electronic format (PDF). The results are published on our website sportzeitnehmung.at.
Official results lists may be provided in the layout requested by the respective sport federation regulations (e.g. by the UCI, upload format for UCI DataRide etc.).
Result database
As per request results are also published in our results database. Detailed data (e.g. lap times, intermediate rankings, time difference etc.) is provided. Click on the picture lefthand to see a sample!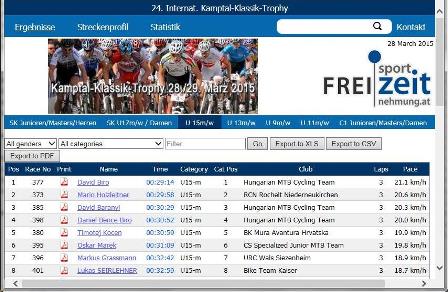 It is also possible to integrate Online Certificates (PDF format) or links to external photo agencies in the results database.